Bergvik Iso Floor Advanced Raised Flooring Installation
EDP Europe in partnership with Bergvik and Critical Facilities Solutions have recently installed 400m² of the advanced Bergvik Iso floor raised flooring system, in several power & plant areas for the National Grid.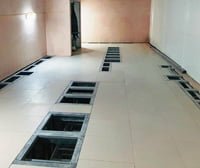 The project, managed on behalf of Morgan Sindall Infrastructure and ABB, is part of the IFA2 project a major new energy infrastructure project linking the UK's electricity transmission network to France. The link will enhance the security, affordability and sustainability of energy supply to both countries, with the interconnector capable of exchanging 1,000 Mega Watts of power between the UK and France, enough to power over a million homes.
The Bergvik Iso floor system is a dynamic raised floor system. Unlike traditional pedestal raised floors, Iso floor uses a sub-frame structured that allows easier adaptation to ever-changing technologies, equipment densities, equipment footprint and increased cooling demands. The Iso floor system uses up to 70% fewer pedestals than a traditional raised floor system.
This design allows for easier installation. Installation was a vital factor in this project with a tight timescale leaving little room for error. The EDPE / CFS team worked successfully with Morgan Sindall and ABB enabling the floor frame installation to be easily adapted to facilitate the complex underfloor containment install.
In addition to the sub-floor frame, 80 specialised mounting frames were built and installed onto the sub-floor frame allowing for the High Voltage equipment to be sited. The floor was finished with bespoke sized Bergvik laminated floor panels. The project was delivered on time and to budget with all major installation milestones achieved.
The Senior Site Manager for Morgan Sindall commented that "The Bergvik Iso floor solution is incredibly versatile. Working with EDP Europe and CFS has been fantastic, both companies understood our requirements from day one and worked with us to achieve all project milestones".